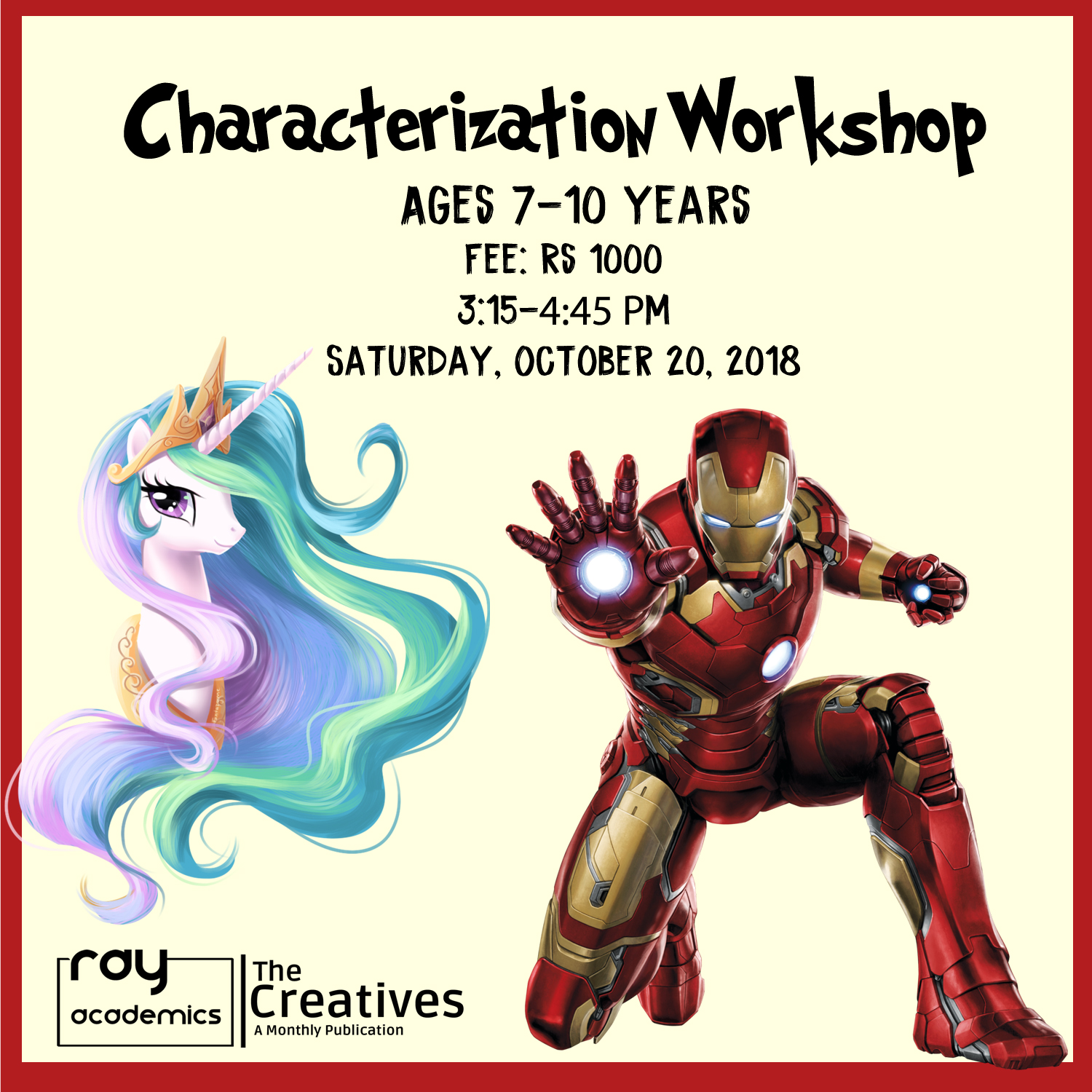 Characterization Workshop
Address:
Ray Academics,
21 Bank Square Market,
Model Town
Lahore
Pakistan
DATE & Timings:
Saturday, October 20, 2018
3:15pm -4:45pm (7-10 years)
Group:
7-10 years
Fee:
Rs 1000 per day
Details:
This workshop will help the students understand how to characterize in a story. The children will be given specific words according to their age level. The parents are welcome to communicate what level they think their children can easily do.
They will be given specific words to elaborate their characters. They will be using existing characters that they particularly like to read about. They will develop their characters in detail so that they can use this information in their current story writing tasks at school. There will be interactive quizzes and games to reinforce the vocabulary that they will learn. Certificates will be given out to the students for the completion of the workshop. To add some fun they are welcome to bring pictures of characters that they like or even dress up as one!
Specific writing techniques will be taught by an international educator, Bushra Ehsan. Ms Bushra has developed her writing skills from London School of Journalism, Bath, UK. Her work has been published in Khaleej Times, Dubai UAE and local publications in Lahore including The News etc. She has also been involved in writing and composing press releases and newsletters that were sent out regularly by WNY Muslims, Buffalo, NY. She has taught in several US schools such as Glastonbury Public School, East Hartford School and many others. You may learn more about the instructor here
Ray Academics has launched its very own monthly publication "The Creatives". This magazine is designed to encourage children and young adults to read and write. Pictures taken and excerpts of work may be published in "The Creatives"
Brief Outline:
How to name characters and create their personalities

Role of characters in the story

The protagonist and the antagonist in the story

Inside and outside traits of a character

Characterization vocabulary

Show rather than tell techniques

Quizzes and Interactive Games
Number of Students allowed to attend the workshop: 10
The capacity of this workshop is 10 and participants may be denied admission if we exceed the limit. You may pay in advance by paying in cash or make an online payment to avoid any inconvenience.
Online Banking Information:
Bank transfer information is below:
Account Title: Ray Academics
Account No. 02870103269601
Bank: Meezan
Kindly text or WhatsApp 0302-8556771 for online transferring information if you opt for this payment method.
Registration Form